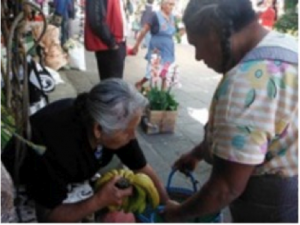 A busy coffee drinker at a Van Houtte® coffee shop in Canada or shopping in the coffee aisle at the grocery store may not have a coffee farmer on his mind as he grabs his daily fix. But Van Houtte's new Farm Views Project is working to change that.

The project will bring the voices of coffee growers to Canadian consumers through blog posts on Van Houtte's C! The Coffee Blog that shine a light on the farmers' daily lives. Five members of the VIDA project community in Veracruz, Mexico will each be taking pictures and sharing posts about their activities and communities once a month for the coming year. The bloggers have been supplied with cameras to use throughout the project—and have been elected by peers to be guardians of these community tools. They have also received photo and storytelling training.
The Farm Views Project has come to life in partnership with Coffee Kids, an NGO working with coffee growing communities in Latin America, and VIDA (The Association for Agroecological Development in Coffee). Coffee farmers face many challenges, and Coffee Kids helps build local capacity to withstand the volatility of the global coffee market. Their initiatives include micro-credit projects for women, scholarships, food security programs and other initiatives unique to community need. GMCR Canada Holding Inc. ("GMCR Canada") has donated nearly $500,000 to Coffee Kids since their partnership began in 1998.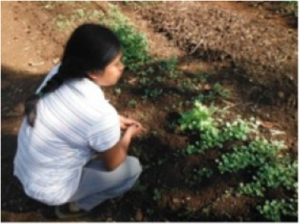 The bloggers' inaugural posts are about food growing and bartering. Gabriela talks about the central market in Coscomatepec. There is a long tradition of women from 50 surrounding communities trading the food they grow at home here: 3 bananas for 6 avocados or bartering for flowers that can be used in home shrines or 'mesa de santos'. Elvia talks about neighbor Doña Esperanza Reynoso's involvement in a Coffee Kids food security project. Doña Reynoso has started growing vegetables to improve her family's diet and to sell for additional income.

"Coffee Kids does an amazing job at providing sustainable solutions to coffee growing communities' challenges and we were looking for a way to share the stories of the people involved in the projects. With Farm Views, we have found the perfect vehicle to do so," says Caroline Fournier, Coffee Expertise Communication Manager at GMCR Canada.

According to a study of the University of Vermont, 70%of global coffee supply is from small coffee farmers. There are 25 million small coffee producers. Sometimes, they can cultivate less than 3 hectares of coffee and harvest 1,000-3,000 pounds of unroasted coffee per year.

Kudos to GMCR Canada for using social media to shed some light on those things important to coffee farmers and to raise awareness among its Canadian consumers. This project provides one small window on a very complex food system.

Follow the Farm Views bloggers all year at: http://www.vanhoutte.com/en-ca/c-the-coffee-blog/coffee-culture/the-farm-views-project

GMCR Canada, owner of the Van Houtte brand, is committed to social and environmental responsibility, and continues to evolve the company's corporate citizenship and community outreach efforts. The parent company, Green Mountain Coffee Roasters, Inc. allocates a portion of its pre-tax profits every year to support socially and environmentally responsible initiatives. You can learn more about GMCR Canada's commitment to sustainability at http://GmcrCanadaSustainability.ca
Originally posted to Justmeans.com on May 17, 2013