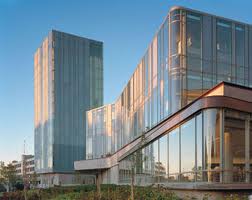 Student interest means ever-increasing ESG content at this Canadian school
"I thought it might just be hype, but they do talk about [sustainability] in accounting class!" related Liane Langstaff, a joint JD/MBA student at the Schulich School of Business and Osgoode Hall Law School at York University in Toronto. She was one of a few students I spoke to at a recent Schulich student/industry CR networking event who emphasized that sustainability content was embedded into many of their core MBA courses.
It's a testimonial for the Toronto-based business school ranked #1 Canadian school and #2 worldwide by the Aspen Institute Beyond Grey Pinstripes survey on preparing students for the social and environmental complexities of tomorrow.
The Erivan K. Haub Program in Business and Sustainability is not new at the school. It was launched in 1992 through a donation by a German family who wanted to see such a program started in North America. Schulich ended up being unique in embracing the opportunity and has emphasized sustainability ever since.
While 10-20 students a year might choose the Business and Sustainability stream of the MBA program, the 400+ students in the MBA program are getting an integrated exposure to ESG topics. According to Dr. Andrew Crane, George R. Gardiner Professor of Business Ethics, this evolution is bottom-up and incremental, coming from students asking for more content—as well as senior leadership support, brand identification and faculty efforts across all the course offerings.
What was once cutting edge is now table stakes, according to Crane, with what was taught 20 years ago still core to the program. But, "keen students will already know [the basics]. They are looking for more advanced knowledge, so we have launched courses on social enterprise, carbon finance, and sustainability reporting, to push the envelope on higher-level content," said Crane. A course on sustainability science is also in the planning phase.
The student experience
Students I spoke to were attracted to Schulich by the sustainability specialization and the culture of diversity. According to students, the program is doing what an advanced degree should: opening their minds to a global view of sustainability and the complexities inherent in the transition to a low carbon economy.
With a non-profit, fundraising background, "I came in to the school really focused on corporate giving. I've learned you have to look at the big picture, the full cycle of sustainability," said Sarah Tron, a first year sustainability and marketing student. "We have a value creation class that emphasizes talking to stakeholders and looking at multiple perspectives. Schulich helps you look at creative solutions, not tradeoffs."
Langstaff also notes, "With a background in environmental science, I thought it was more black and white…I've learned how to make sustainability strategic and based on industry core competencies."
With a nuanced education in hand, students must then negotiate the job market.
Part two of this post will talk about placing students after graduation.
Originally posted to Justmeans.com on March 28, 2013.